rooms & suites
In-Room Amenities
High-Speed
Wi-Fi

40-inch LED TV

Iron & Ironing Board

In-Room Safe

Bathrobes and over-sized bath towels

Tea and Coffee Making Facilities

Dry cleaning & laundry

24-hour Concierge and In-Room Dining

Access to GYM & SPA

Minibar
---
corner
Enjoy a secluded getaway in one of our corner rooms! Relax with all the comforts you need to truly unwind.
Corner Rooms
Offering cozy and warm spaces for guests spending much of their time out of the hotel exploring the city, Corner... rooms have been thoughtfully re-designed. Averaging 20m2 (65 ft), each of these Corner rooms is decorated with a working desk, an armchair, a room safe, a wardrobe, an iron and ironing board, LED TV, a phone with voice mail, High-Speed Broadband wireless internet access, complimentary in-room Coffee and Tea making facilities. A full marble bathroom includes a shower with soft bathrobes and a plentiful supply of oversized bath towels, including a hairdryer and telephone.
deluxe
Enjoy mesmerizing views of Istanbul and soak up the city's captivating energy with our deluxe rooms!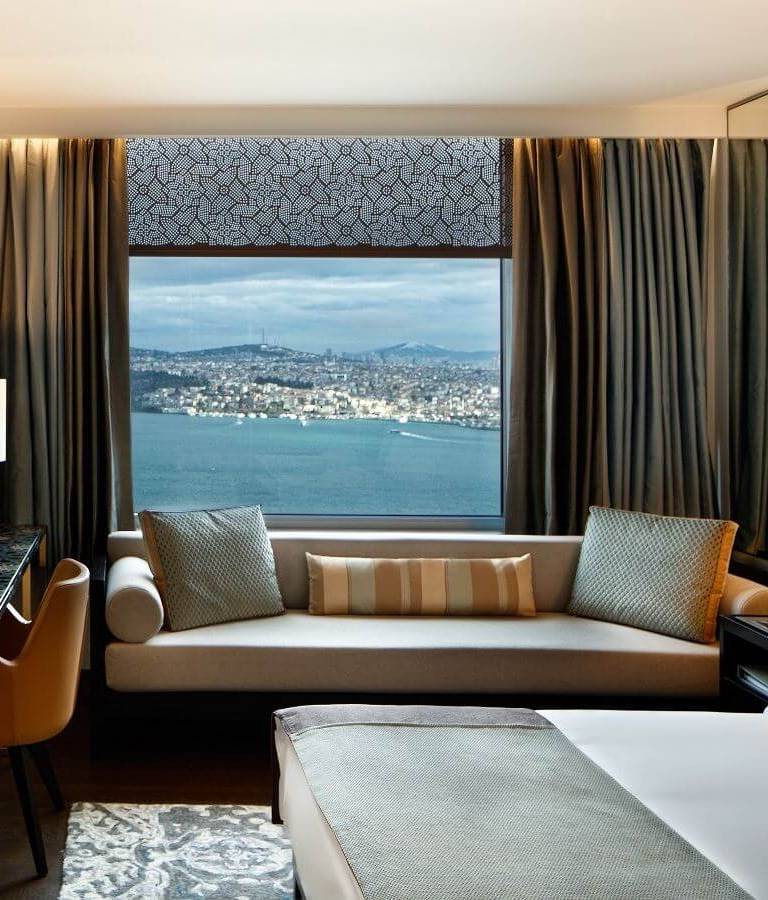 Deluxe Rooms
Renovated Deluxe rooms boast an average of 27m² (82ft), providing the perfect balance between home and away. In... addition to chic marble bathrooms with walk-in showers, each room offers a cozy sofa bed and working desk as well as built-ins for hassle-free storage options.
clubs
Unwind in The Marmara Taksim's luxurious embrace and let your surroundings inspire you. Choose your room between Club Corner rooms or Club rooms - an unforgettable experience awaits!

Club Corner Rooms
Revel in the utmost luxury and comfort of our King-bedded Club Corner rooms, measuring an average of 20m² (65ft):... each room is elegantly equipped with a built-in closet, bedroom bench, work desk, and armchair. Pamper yourself further in the lavish bathrooms boasting marble walls as you bask beneath walk-in showers and chic vanity units.
Club Rooms
Experience ultimate comfort and luxury in our newly renovated Club Rooms situated on the top floor of the hotel.... Designed with sophistication, they offer 25m² (82 ft) filled with modern furnishings, including a working desk, armchair, sofa bed, and built-in closet to make you feel right at home. Relax in your own marble bathroom, complete with a Walk-in shower fitted vanity unit for that extra touch of elegance.
suites
Indulge in the lavishness of our suites that will transport you to an unprecedented level of luxury. Savor breathtaking views over Istanbul and feel its magnetic energy as far as your eyes can see.
Family Suite
Ideal for families or guests looking for a little more space, 49 m² Family Suites are granted a spacious master... bedroom with king bed and an ample living area, which includes an open plan kitchenette, dining table as well as a guest bathroom with shower. Marble bathrooms have chic twin vanity units and separate walk-in showers and jacuzzi bathtubs.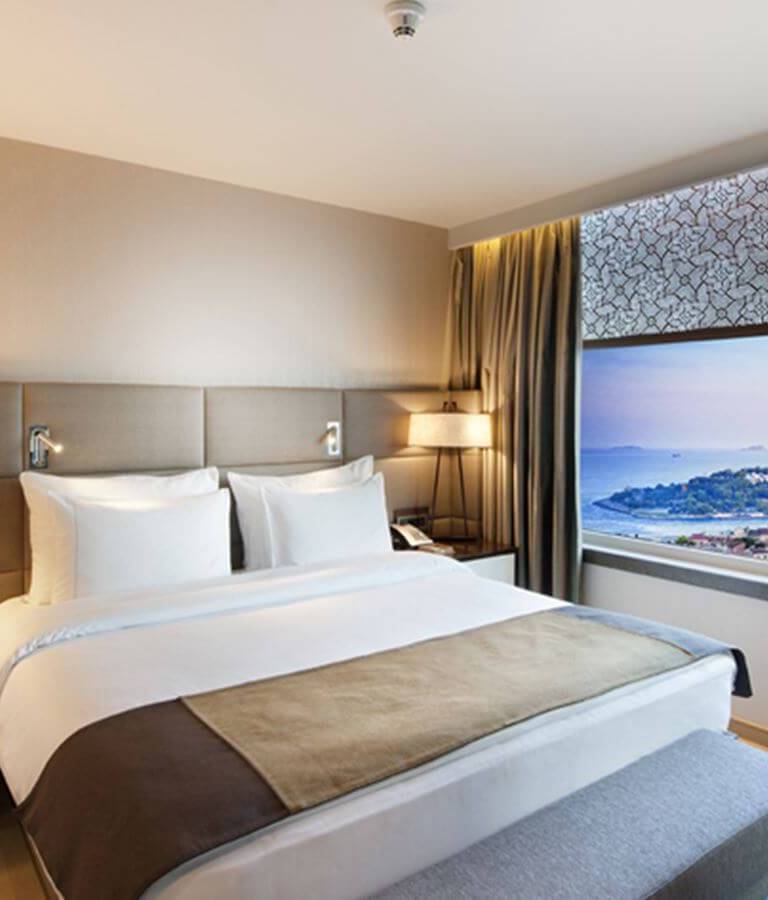 Goldenhorn Suite
Commanding unique views of Golden Horn and İstanbul's hictoric peninsula, Sultanahmet, thoughtfully re-designed,... 51m² Golden Horn Suites have a master bedroom with with king bed and bedroom bench, living room with a comfortable sofa, armchair, large working desk, and a marble bathroom with separate jacuzzi bathtub and walk-in shower and twin vanity unit.
Bosphorus Suite
44m², fully re-designed Bosphorus Suites boast mesmerizing views and offer a master bedroom with king bed and... bedroom bench, living room with a comfortable sofa, large working desk, and a marble bathroom with separate jacuzzi bathtub and walk-in shower and twin vanity unit.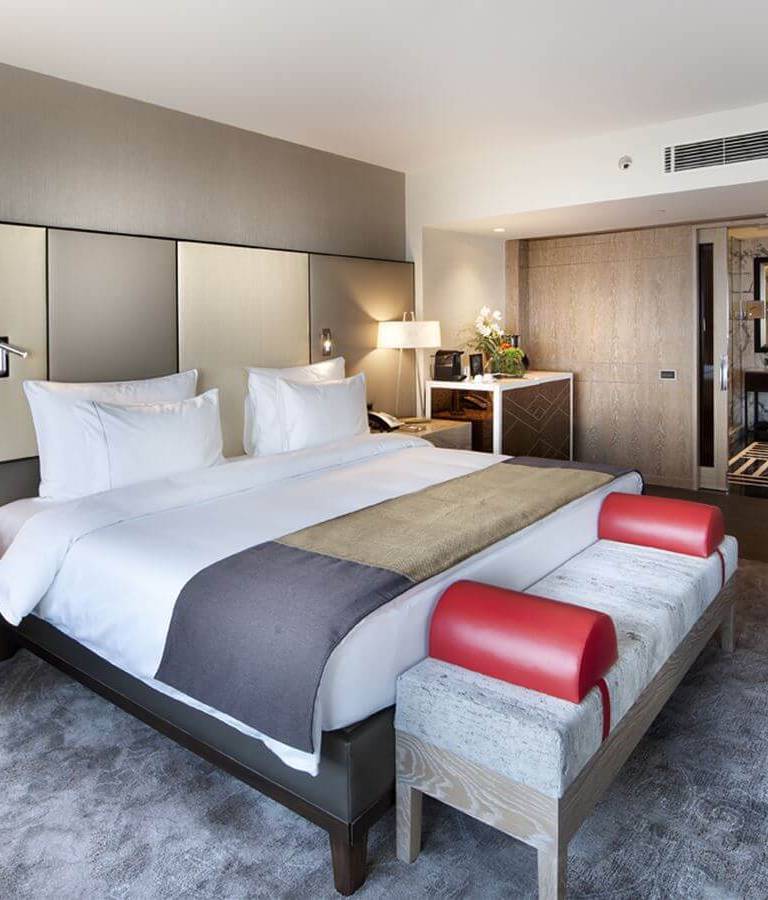 Flying Carpet Suite
Fully refurbished, 65m² Flying Carpet Suites have an open floor plan combining sleeping and living quarters with... scenic views of the Golden Horn at the backdrop. Statement furniture include a king bed with bedroom bench, Josephine chair to unwind, sizable twin vanity unit and separate walk-in shower and Jacuzzi bathtub.